Jan 2022

Op zoek naar bommen

Posted at 13:09h

in

Leden

Wat zijn die daar aan het doen? – Mogelijk heeft u wel eens de mannen en vrouwen van AVG buiten aan het werk gezien, terwijl zij over het veld liepen met een 'stok'. Sommigen zullen zich hebben afgevraagd wat zij precies aan het doen waren en een enkeling heeft wellicht direct aan onze collega's de vraag gesteld waar deze 'stok' precies voor dient. Graag geven wij als EVN antwoord op deze vraag.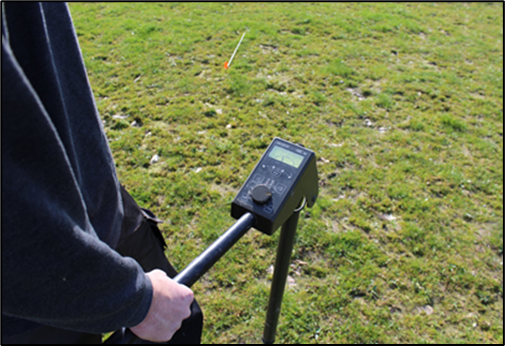 Deze bewuste 'stok' wordt bomlocator genoemd in ons vakjargon. De officiële benaming is een magnetometer, ook wel Gaussmeter of Teslameter genoemd. Dit is een meetinstrument waarmee de verstoringen in het aardmagnetisch veld worden waargenomen tot op ca. 4,50 meter diep. Deze verstoringen worden veroorzaakt door ferro metalen voorwerpen. Hoe werkt dat? Een object dat ferro metalen bevat, beïnvloedt het verloop en de dichtheid van de aardmagnetische veldlijnen (zie afb. 2). Het is precies deze afwijking die wordt geregistreerd door de magnetometer. Hierdoor kunnen objecten die met het blote oog niet zichtbaar zijn, maar verstopt liggen onder het maaiveld, worden opgespoord; bijvoorbeeld ontplofbare oorlogsresten.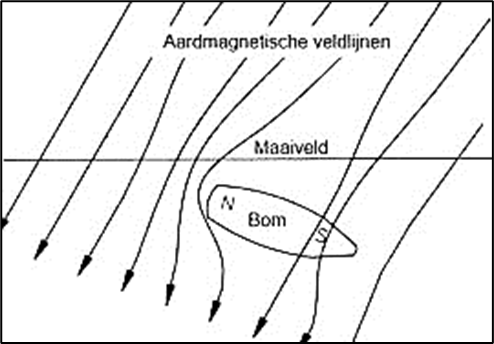 De detecteerbaarheid van ontplofbare oorlogsresten, bijvoorbeeld een granaat of een vliegtuigbom, hangt af van de afstand t.o.v. de magnetometer en de hoeveelheid aanwezig ferro metaal in het object. Om die reden hoeft een vliegtuigbom lang niet altijd een grotere uitslag te geven als een granaat.
Mocht u naar aanleiding van dit schrijven nog vragen en/of opmerkingen hebben, of wilt u meer weten of dit onderwerp? De leden van onze branchevereniging staan voor u klaar! U kunt contact met ze opnemen via onze site van EVN.